It's Magic & Jokes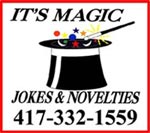 It's Magic and Jokes has all your magic needs. Tricks for the professional as well as the beginner. We have a large inventory of stage magic, close - up, gospel, and many books and videos.
Photo Gallery
Click on a photo below to enlarge and begin slideshow.
Large slideshows may take a minute to load.
Hidden Treasure