Mr. B's Ice Cream & Deli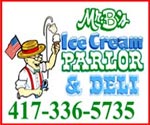 Branson's Oldest Ice Cream Shoppe! Old Fashion - Handmade - Homemade items. Sandwiches on delicious homemade bread – Beef hot dogs 1/4 lb. – 20 great ice creams (sugar-free also) – Homemade lemon/limeade - Old fashioned sodas in five flavors - Frito or nacho pies with chili & cheese - Cobblers in four flavors - Hot fudge brownie sundaes (brownies made here) - Old fashioned shakes & malts you can sip through a straw. Quality.
Photo Gallery
Click on a photo below to enlarge and begin slideshow.
Large slideshows may take a minute to load.
Hidden Treasure